Products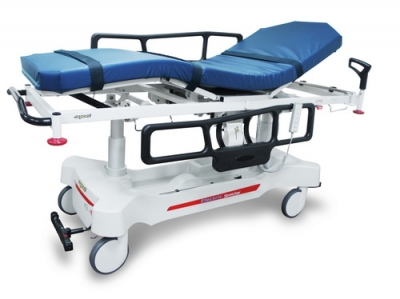 Product Name : Cogent NEW Electric Stretcher ES480B
Enlargement
Product Character
Electric Stretchers ES480
COGENT electric series are designed to ensure caregiver safety and efficiency while enhancing the patient comfort. It can be instrumental in reducing caregiver injuries during patient care. Electric offers four mobility options and unprecedented patient comfort. Patients can adjust their own positions without calling a caregiver for assistance. A variety of available support surfaces and configuration options give electric the multi-function you need. The 700 lb weight capacity combined with multiple mobility solutions help accommodate heavy patients and long term
transports.
Standard Features
Integrated storage tray with oxygen bottle trough
Electric Trend. /Reverse Trend.
Electric ascending and descending
Electric Fowler position
Retractable fifth-wheel steering
Four wheel brake pedal/steer pedal in two end of bed
Drainage bag clasp x 2
IV pole inserted pole x 5
4" (10cm) mattress or more
Backboard articulation 0-90˚
Wheel Cover (ABS)
Collapsible/Foldable side rail
Two stages movable IV pole x 1
Foot auxiliary push bar
Jack / Hook upright Oxygen Bottle
Protective corner bumpers x 4
Footboard lift 0-40˚
Hand controller panel
ABS base cover
Optional Features
Patient surface:195x76cm
Overall Length: 213cm
Overall Width: 91cm
Optional Accessories
Monitor Tray/foot rest
Head board
Patient Record Holder
Specifications
Model Number ES480-A ES480-B
Overall Length 213 cm
Overall Width 85 cm
Weight Capacity 250 kg
High 94cm ± 1cm
Low 54cm ± 1cm
Backrest 0-90˚ ± 1˚
Trend. / Reverse Trend 19˚ ± 1°
Patient Surface 195cmx70cm
Side rails 126 x 42 cm
Caster 8" (20 cm)
Footboard Lift Crank 0-40° ± 1°
Power supply 110~220 V
Electric Stretchers ES480
COGENT electric series are designed to ensure caregiver safety and efficiency while enhancing the patient comfort. It can be instrumental in reducing caregiver injuries during patient care. Electric offers four mobility options and unprecedented patient comfort. Patients can adjust their own positions without calling a caregiver for assistance. A variety of available support surfaces and configuration options give electric the multi-function you need. The 700 lb weight capacity combined with multiple mobility solutions help accommodate heavy patients and long term
transports.