Products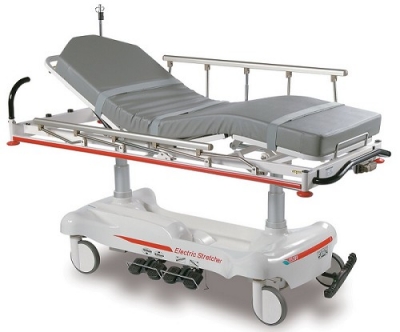 Product Name : Electric Stretcher ES280
Enlargement
Additional files :
Electric Stretcher ES280.pdf
Product Character
The function of this electric stretcher which is autostability
With ascending and descending and trend / reverse trend.
And save the Electricity the electric power storage. To supply the choice for the operator the labor-saving and convenience
‧Intergrated storage tray with oxygen bottle holder.
‧Ttrnd / Reverse Trend.
‧Charging socket
‧Brake pedal control four wheels / steering pedal in two end of bed.
‧Electric ascending and descending and tilt pedal of bed surface in both sides.
‧8" wide wheel (Tente).
‧Wheel cover x 4.
‧Retractable fifth-wheel steering.
‧Restraint straps with velcro.
‧Drainage bag clasp x 2
‧Protective corner bumpers x 4
‧IV poles inserted hole x 5
‧Two stages movable IV pole x 1
‧Two stages permanent folding IV Rod x 1
‧3"(7cm)mattress or more
‧Collapsible siderails
‧Delivery push bar
‧Foot auxiliary push bar
‧Pneumatic assist backrest bends the angle 0°~90°
‧Footboard bends the angle 0°~40°
‧ABS base cover
‧Upright oxygen holder aperture.
Head Board
Upright Oxygen Cylinder Holder
Foot Board with Monitor Tray
Upright Chest X-Ray Frame
Upright Oxygen Cylinder Holder
Patient buckle up restraint straps
The function of this electric stretcher which is autostability
With ascending and descending and trend / reverse trend.
And save the Electricity the electric power storage. To supply the choice for the operator the labor-saving and convenience